We wouldn't expect somebody that doesn't do cardiovascular exercise to have great endurance. And if somebody had never learned to swim, we wouldn't label them as having a drowning disorder if they struggled in water. But with mental health, for some reason, we expect it to magically be perfect without any work or regular exercise. And that's just not how bodies and brains work. So here's your introduction to the concepts and skills of mental fitness. It's time to practice lifting heavy emotions, improving cognitive flexibility, and building the endurance to do the things that will actually make you happy and healthy.

Develop the skills and abilities to accept uncertainty.
Through live and animated videos, text-based lessons, and a series of homework exercises, Mark takes the fundamental concepts and practices he typically covers with clients during the first month of working together and packs them into a single course.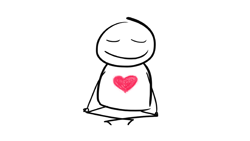 Start a regular meditation and mindfulness practice.
Through short exercises, Mark explains how to incorporate meditation into your busy day. You'll get a sample schedule and audio guides for a month of meditation practice, along with tips on turning daily activities into mindful experiences instead of moments to practice distraction.
Understand compulsions that fuel anxiety and stress.
Explore how the things we do to cope with, check on, and control uncertainty, only fuel more uncertainty, anxiety, and other feelings we don't like. Learn how to set healthy goals and cut out judgments—the fuel for so much stress!
Access personalized tips and advice.
Ask Mark questions and tap into his experience helping people from around the world build better mental health and fitness. Email Mark images of your homework exercises to get suggestions on overcoming challenges and expanding your skills.